12-Week UX Accelerator Program
Stop feeling like an impostor & become a certified UX practitioner
Learn UX tools and methods over 12 weeks with our online UX course

Weekly coaching & collaboration sessions with UX experts and students

Online UX learning through 10 modules, 74 video lessons & 10 study guides

Gain experience working on a real project for an industry client

Launch your UX career with a UX portfolio & digital showcase

Download 30 ready to use UX templates with instruction videos

Access to free and discounted UX tools & technologies

Join our exclusive online UX learning community for support and work opportunities
Next intake 3rd September 2019
Work on a real project for an industry client
We have teamed up with Surf Life Saving Foundation to offer you real world experience during the 12 week online UX program. They will be your client, and brief you with the project goals. We will work with you to achieve their vision. By the end of the program you will have an impressive UX portfolio piece showing the full end to end UX design process.

Our 10 online UX study modules are aligned with the ISO standard for human centred design, and cover the syllabus for the BCS Foundation Certificate in User Experience (UX01). In addition, learn UX design principles, tools, methodologies plus tips and tricks from what we have learnt working on over 400 UX projects.
Introduction to user experience design

User research: planning & conducting

Documenting your research to build empathy

Co-design workshops, stakeholder engagement & prototyping

Information architecture & navigation

Interaction design

Visual design & information design

Usability evaluation

Usability testing: measuring usability

Ready set go - launch your site, system & your career
Weekly team coaching & collaboration
Coaching and feedback
Every week you are invited to join a live coaching call with our team of experienced coaches and fellow students. Our coaches will provide feedback on previous module project activities to ensure you keep on track.
Student collaboration
We will provide opportunities to collaborate with your coach and fellow students on an industry project which everyone will work on independently (no group work).
Weekly Q&A
Need support? Need advice? Help with your project activity? Ask your question before or ask us during the live coaching call and we will endeavour to answer and share so everyone can learn.
Convenient & recorded
We will schedule the call midweek (5:30pm AEST between Tuesday and Thursday). If you can't attend a coaching session, they will be recorded and uploaded to the portal so you can watch them in your own time.
Student outcomes
Become job ready with a real portfolio, coaching from industry experts, and the skills needed to break into UX
Become UX certified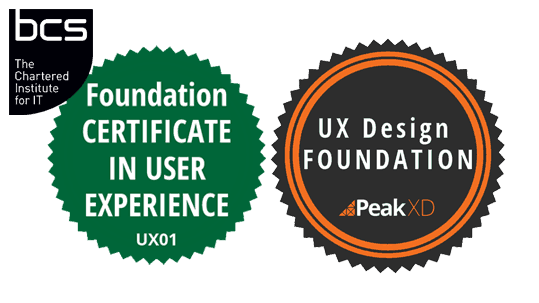 Grow your career with a UX portfolio
A career in UX might be closer than you think. After the 12 week program you will feature in our digital showcase of UX talent and be seen by industry managers, and specialist UX recruiters. Complete the program with a real portfolio, coaching from industry experts, and the skills needed to break into UX.
Post-course student support
When you complete the 12 week program we look after you. Included with the 12 week program is membership to our exclusive UX learning community where you can see new jobs for UX professionals, get support from peers, UX experts and networking opportunities. Get 12 months access to the learning portal to access all the materials, templates and video tutorials, and get optional further coaching post-course.
Bonus tools and technology licences
Plus, 3 months FREE Optimal Workshop subscription including Treejack, Chalkmark & Optimal Sort.
30 day FREE trial of Loop11 online usability testing tool.
Custellence customer journey mapping tool (Free Forever plan) and 80% off the Professional plan (if you choose to upgrade).
Frequently asked questions