3 Day UX Design Course Canberra (Government)
Aligned to the Australian DTA Digital Service Standard
Learn UX tools & methods aligned with DTA Digital Service Standard

How and when to use UX tools and methods

Learn by doing with practical activities and group work

Become a certified UX practitioner and successfully graduate from this program with a Foundation Certificate in User Experience (UX01)

Catering provided. Morning & afternoon tea and lunch all 3 days
Our 3 Day UX design (Government) course curriculum is aligned with the language and stages of the Digital Service Strategy (by the DTA) and the ISO standard for human centred design. The syllabus is also designed to the
BCS Foundation Certificate in User Experience (UX01)
. In addition, learn UX design principles, tools, methodologies plus tips and tricks from what we have learnt working on over 550 UX projects.
Introduction to UX design

Discovery and user research

IA and navigation design (Alpha)

User behaviour and design principles

Usability testing

Mobile & tablet UX

Maintaining and evolving your site or application (Live)

Implementing a UX approach in your organisation
Hands on practical activities & exercises
If you 'learn by doing' then you'll love the 15 hands on activities in the 3 day UX design course, including:
Defining your users

Crafting a research approach

Affinity diagramming

User interviews & task analysis

Personas

Customer journey mapping

Collaborative design

Card sorting & IA Design

Heuristic evaluations

Writing a test plan

Moderating a usability test session

Mobile wireframing
Be guided by a UX professional with over 20 years' experience, who has worked on over 550 UX projects, including Department of Education (Federal), Australian Bureau of Statistics, Australian Skiils Quality Authority and the Australian Competition & Consumer Commission. With hands on with activities that have been carefully designed to help you learn UX fundamentals.
Certification & UX Digital Pack (Optional)
This add-on option includes:
Certification assessment fee for the BCS Foundation Certificate in User Experience.

6 months access to the PeakXD UX training portal

10 downloadable study guides to help you prepare for the exam

75+ video lessons so you can revise on demand

30+ UX templates to save you valuable time

6 months of interactive group coaching calls with hands-on training to further apply and develop your skills

Practice exam with answer sheet and glossary of terms
PeakXD is Australia's only accredited training provider for the BCS Foundation Certificate in User Experience (UX01). Upon completion of our course, you can sit the exam to become a certified UX practitioner and continue your UX learning through our online training portal and coaching.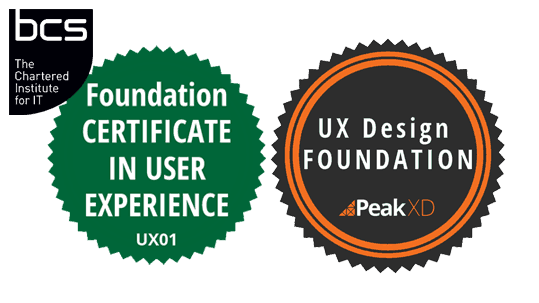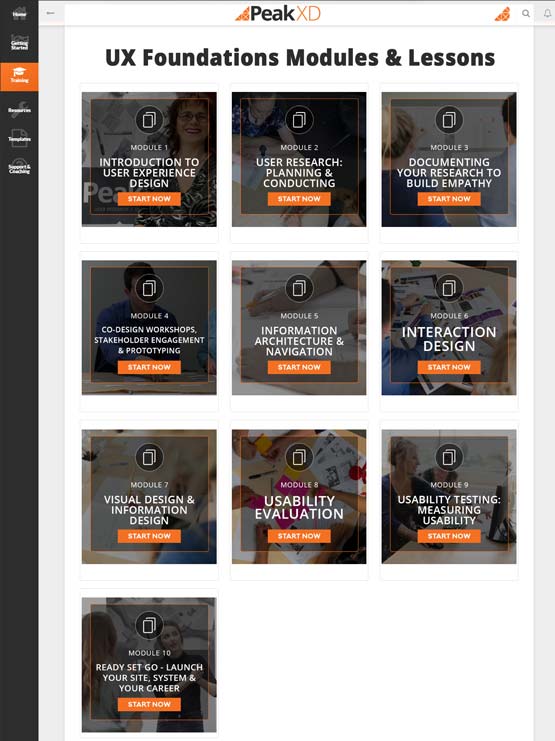 Who is this course for?
The course is targeted at those working in or for government, however the course outline is fundamentally the same as our 3 day UX Design course. The main differences are the case study we work through in the break out activities and the examples in the course materials which are more government focussed. We also spend more time talking about DTA standards.
Meet Tania... Trainer and Principal
20 years' experience as a user experience practitioner

Delivered UX training to over 2,000 participants in Asia Pacific

Trained whole teams in UX such as ATO, DHS, CASA and several other government agencies.

Founded PeakXD in 2003 - a leading Australian UX consultancy

Enjoys sharing UX stories from the trenches

Is passionate about UX and empowering people to improve the world through human centred design

Highly qualified: M. Bus. (Research) in User Behaviour, Grad. Cert. Human Factors, Grad. Cert in Arts (Marketing) and B.Sc.
UX Course ticket does not include Certification Assessment. No exam voucher will be issued with this ticket type. Please purchase the 'Certification & UX Digital Pack' add-on for Certification.
Save $400 off the full price up to 21 days before the event. Limited to 10 tickets only at Early Bird.
Certification & UX Digital Pack $570 AUD
Includes certification assessment fee for the BCS Foundation Certificate in User Experience. Plus access to the training portal with downloadable study guides, 75 video lessons, 30+ UX templates and monthly coaching calls for 6 months.
Canberra UX Design Course