All of our courses can be offered in-house. If you have 8 or more participants interested in learning about UX, please contact us to enquire about delivering our courses within your organisation. We can also tailor programs to suit your organisation's requirements. Rather than just delivering a standard program to all our clients, we work with you to identify your employees' existing level of knowledge and your specific training needs. We then tailor a training program to meet your requirements.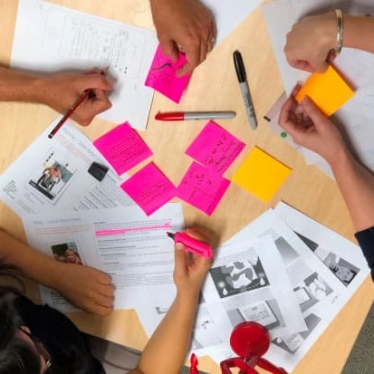 Giving your team the confidence to drive user-centred projects ...
We work with organisations to help them achieve their business goals by facilitating the development of highly usable, effective websites and applications. There are a number of reasons to consider PeakXD as your in-house training provider:
Experienced trainers – Tania Lang is a widely respected usability practitioner and has over 15 years of usability and user-centred design experience. She understands what tools and techniques work in the real world having worked for many large organisations with limited resources.
Interactive training – We believe that participants learn by 'doing' rather than listening. Accordingly, all of our courses have hands on activities and group exercises to accompany the theoretical course components.
Lots of happy training participants - A survey of past students since 2013 showed that 81% who responded found the User Centred Design tools and techniques were 'quite useful' or 'extremely useful' in their workplace.
Government accredited – PeakXD is a Queensland Government GITC accredited business (Term Agreement Q-3061). We are also on the QLD Government ICT Services Panel.
Professional – Proud member of the User Experience Professionals' Association.
Comments from our clients
"Peak's UX design course gave me the tools and understanding to effectively engage stakeholders in the design process."
"Tania has a lot of experience with UX testing and her examples of actual events/occurrences greatly helped with understanding the concepts and processes of UX"
"Very practical skills I can take back to improve our business and provide better services to users."
Cathy Nichols
Department of Housing and Public Works
Contact us
today to discuss how we can help your organisation build up your UX capability in-house.